Medical Model Adult Day Care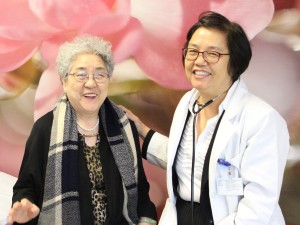 While living and sleeping in one's own home is a priority, aging and illness need not be a life sentence for boredom, listlessness, and dereliction. At New Franklin Center we offer a comprehensive outpatient daycare program designed to engage, light up and invigorate our clients during the day, while allowing them to spend evenings, weekends and holidays in their own home.
As the medical field is beginning to recognize, mental, emotional, and physical health are all intertwined in a complex and individually unique way. Many times, being unable to stay fit can be the cause of depression and decline, while at the same time, the opposite is also true: a state of exclusion, boredom and unhappiness can lead to the decline of a person's physical health.
In order to combat these diminishing factors, our adult day care program was designed to provide a two-pronged strategy of active programming; keeping our residents physically healthy and emotionally happy.
Since functional independence is one of the primary factors of health and happiness in the aging population, we offer exercise and recreational programing specifically designed to keep our clients bodies strong and their spirits up.
The quality of meals significantly contributes to overall health and are a focal point of our clients daily routine. Spending mealtime together, eating and conversing with friends at the Day Care Center, nourishes the body and soul! Since many of our clients are of Asian background, we employ an Asian chef to cater specifically to this demographic. Knowing that familiar dishes can go a long way to imparting a sense of home and familiarity, our chef takes pride in delivering healthy, nutritious and very tasty meals to our clients, using traditional Asian recipes.
Many people who come to our clinic may be facing issues with chronic or acute pain. To manage and reduce pain, we have on staff a nurse supervisor who can administer pain management protocols. This may include pharmaceuticals or non-pharmaceutical methods such as physical therapy and mindfulness practice.
Beyond the physical needs of our clients, we recognize the importance of social interaction; feeling engaged and connected with both other clients and the broader community. Weekly organized social outings provide diversity of experience as well an opportunity to interact with people in the community. These outings keep our clients outlook fresh and provide a welcome break for engagement and variety.
On hand at the Day Care Center are specially trained Social Workers to help navigate the human side of health care. Our social workers have many years experience and are very effective in helping our clients achieve inner peace with their situation and stage of life.
An additional benefit to having you or a loved one enrolled in the New Franklin Day Care Program is that our expert medical advocates are available to assist you in navigating the complex world of healthcare bureaucracy. Our medical advocates will assist you in accessing the medical benefits you are entitled to, as well as supply useful information and advice about what to expect.
By employing a comprehensive suite of strategies and benefits, we aim to provide a better quality of life for our clients at all levels; physical, emotional, mental and social.
Call us for a tour and a free lunch:
New Franklin Adult Day Care
45-15 162nd Street
Flushing NY 11358
Phone: (718) 762-4561
Fax: (718) 888-0819